Nicholas Cole 1st
In 1838 Nicholas Cole left Plymouth on the ship John Mellish after selling some small estates he inherited at Rame Head, Cornwall. He arrived in Sydney in June 1839. Hearing of land available in the Port Phillip district he boarded a brig, the Mary Hay, and arrived in Melbourne in August 1839. On board he met Peter Mc Arthur and together with a Frenchman named Duvernay, they proceeded to Geelong, which at the time consisted of," a hotel built of slabs, two stores and a blacksmiths shop." In the hotel, described as a slab hut of two rooms, bar and bar parlour, the slab hut became known as Macks Hotel, they made inquiries as to purchasing sheep, Peter Manifold who was sitting on the opposite side of a blanket, rolled it back and said he had sheep for sale. They made arrangements to inspect sheep at Purrumbete and subsequently purchased a number of sheep each.
Cole and McArthur became partners and took up land that was afterwards known as West Cloven Hills and Menningort runs. West Cloven Hills was run as an outstation due to a lack of water. A friendly black showed Nicholas Cole a native well on West Cloven Hills. In 1842 it was decided to dissolve the partnership and divide the property. The method used to split the property was for one partner, Cole, to draw a line through the run and the other partner, McArthur, to have first pick.
Life was very tough in those first years, with low prices and much hardship, one incident handed down through the families." After enduring much discomfort in the primitive surrounds it was decided to build a new hut, so McArthur, who was a bit of a carpenter, set to work to build something that would more nearly resemble a house, while Cole, who was the, better Sheppard, of the two, attended the sheep. When at long last, and after much toil the new "house" was practically finished, the chimney alone requiring some little thing to be done to make it quite safe, McArthur thought he would like to give Cole a pleasant surprise by serving up to him a hot supper cooked in the new house. So he put on a leg of mutton to roast but alas the chimney was not so safe as he thought, it took fire and after a few minutes the new house burnt to the ground."
Another incident quoted " Mr Cole escaped the great Black Thursday fire, when nearly the whole of the Western District was swept clear of grass and stock, for a week earlier his run was burned and he lost all his stock, his woolshed and out buildings, only the dwellings house being saved." This fire, Black Thursday, was Thursday, 6th February 1851. Nicholas Cole engaged Mr Swan of Swan Marsh as the contractor to build a new shearing shed, from bluestone quarried on the property, when the walls were about half up gold was discovered and the masons "bolted to the diggings ". With the scarcity of labour to finish the contract a roof was pitched on the incomplete shed. At the entrance door to the shed the hight of the walls is 5ft or152cm.
Nicholas Cole 1st. stocked West Cloven Hills with merino sheep, and throughout his life he kept to a type yielding a high quality of wool, while developing large frames. Like many Victorians, he laid the foundations of his flock with sheep from Tasmania, and at a later date purchased rams from Ercildoune and Chalicum
Nicholas Cole 2nd
Nicholas Cole 2nd founded a stud of merino sheep, and continued to purchase rams from Ercildoune and Carngham, as well as from the flock of his friend and neighbour Mr. Thomas Shaw, of Wooriwyrite.
In about 1890 it was decided, " that the volcanic country was to rich for merino sheep and since then first cross lincoln and merino have been kept on the richer lands."

Nicholas Cole 3rd Nicholas Cole 4th
Nicholas Cole 2nd established a Corriedale stud ( Flock Number 387 )in 1935 which he dispersed in 1944 concentrating on his super fine merinos . In 1964 Nicholas Cole 3rd dispersed all the merinos. Nicholas Cole 4th established a Corriedale stud called Warra Yadin flock no 1460 in 1951, this flock was kept for rams for his commercial flock of Corriedales which he ran successfully until his death in 1989. This stud was taken over by Nicholas Cole 5th and Nicholas Cole 6th and the name was changed to West Cloven Hills. This was run in conjunction with a commercial flock of ewes.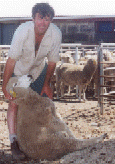 Nicholas Cole 5th Nicholas Cole 6th Nicholas Cole 7th
In November 1992 Nicholas Cole 6th and Geoffrey Risbey formed a partnership and purchased the entire Stanbury Corriedale Stud based at Ceres near Geelong and transferred it to West Cloven Hills approximately 100 kilometres (60 miles) west of Ceres. The original Stanbury stud had very accurate Pedigrees for every sheep bred in the stud. This standard is still maintained. Two studbooks were, and continue, to be kept and meticulous care is taken to observe and record all the stud activities.
The stud was renamed STANBURY CORRIEDALES at WEST CLOVEN HILLS.
Its Australian Corriedale Association flock number is1460
At West Cloven Hills the Corriedale stud is run in conjunction with approximately 3000 commercial ewes which rams from the stud are used so a close eye can be kept on breeding traits and qualities under commercial paddock conditions
AIMS of STANBURY CORRIEDALES at WEST CLOVEN HILLS
The Stanbury Corriedales at West Cloven Hills Corriedale stud is a modern up to date stud, breeding a true dual purpose, easy care, and highly productive sheep for the 21st century.
The aim at Stanbury Corriedales at West Cloven Hills is to continue developing the existing gene pool, producing an animal of the highest commercial value, with a high yielding, heavy cutting fleece, early maturing, produces a lean quality meat, and maintains maximum percentages for lambing, mothering and milking and adaptable to the widest range of environments. With rams going to the southern most point of the Argentine in South America to North America and all points in between, as well as Europe, Romania, Bulgaria, India, China, Japan, U.S.S.R. As well as several countries in Africa. Stanbury Corriedales at West Cloven Hills sheep truly are some of the most versatile and adaptable sheep in the world.
WEST CLOVEN HILLS
The property West Cloven Hills is approximately 1200 hectares (3000 acres), situated in the heart of the Western District of Victoria about 120 kilometres (75 miles) West of Geelong. The property lies between Camperdown in the South and Darlington to the North. The property consists of a range of soil types with volcanic over flows to basalt plains with a diversity of pastures and an average rainfall of 700 millimetres (28 inches)
STANBURY CORRIEDALES at WEST CLOVEN HILLS
WEST CLOVEN HILLS
CAMPERDOWN
VICTORIA
3260
AUSTRALIA
Ph. Fax (03) 55939278
Email. stanbury@gatewaybbs.com.au